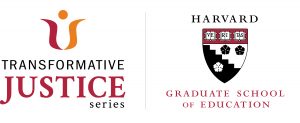 From Classroom to Cellblock to Community
The Prison Studies Project has been involved in transformative justice work at the local and national level for many years. See, for example, this panel, titled Justice that Transforms: Emotional, Social, and Mental Health that took place at the historic #BipartisanSummit for Criminal Justice Reform on March 26, 2015 in Washington D.C.
Our focus on transformative justice has recently formalized in a series at the Harvard Graduate School of Education in partnership with the Charles Hamilton Houston Institute for Race & Justice at Harvard Law School. Through conversations across Harvard and beyond, we explore the tools educators need to nurture learning communities that affirm human dignity. Since August 2016, we have hosted community conversations in three parts: public forums and specialized trainings (often in prison), films, and a monthly trans-disciplinary student working lunch. Topics include restorative justice practices, racial healing, providing sanctuary for undocumented students, protecting children from sexual exploitation, and the role of empathy and mindfulness in education.
Our work is growing and ongoing. Please check for updates. Thank you.