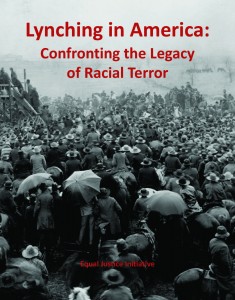 "From the Civil War until World War II, millions of African Americans were terrorized and traumatized by the lynching of thousands of black men, women, and children. This report documents this history and contends that America's legacy of racial terror must be more fully addressed if racial justice is to be achieved." — Equal Justice Initiative, "Lynching in America: Confronting the Legacy of Racial Terror"
Yesterday, the Equal Justice Initiative in Montgomery, Alabama, released a harrowing new reported entitled "Lynching in America: Confronting the Legacy of Racial Terror." This comprehensive study of twelve Southern states documents the names of 3,959 victims of "racial terror lynchings" from 1877 to 1950.
The report has eight key findings. Racial terror lynching was more prevalent than previously documented, in fact the study found at least 700 more lynchings of black people than previously reported. The report also shows that that lynching of African Americans was a tool of terror, used to enforce racial subordination and segregation.
Crucially, EJI makes clear that in the states studied, and in this country more generally, there has been an absolute failure to adequately acknowledge, discuss, or address America's lynching history. More must be done to address our nation's history of racial terror and this report is an important step towards making that history more accessible and widely known.
Read the full report here and a New York Times editorial about the report here.