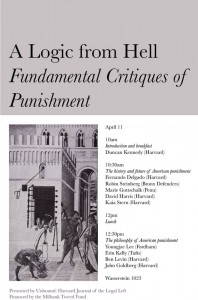 This Saturday April 11th, from 9-6pm at Harvard Law School, Unbound: Harvard Journal of the Legal Left is hosting an annual spring conference entitled A Logic from Hell: Fundamental Critiques of Punishment.
Inspired by the energy, insight, and resources that are currently being poured into questioning the American criminal justice system, this conference will address deeper critiques of the foundational assumptions, ethical implications, and historical contingency of the carceral system. A Logic from Hell: Fundamental Critiques of Punishment will ask questions like 'when is punishment a legitimate aim of the state?'; 'what modern circumstances sanction state violence?'; and 'what is the relationship between ethics and violence?' and more.
Panelists include Robin Steinberg (Bronx Defenders), Marie Gottschalk (U.Penn., author of "Caught), David Harris (Director, Charles Hamilton Houston Institute), Youngjae Lee (Fordham Law), Fernando Delgado (Harvard), and Kaia Stern (Director of Prison Studies Project).
No registration required and all are welcome! More details here.