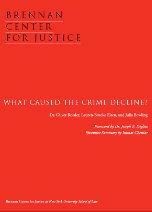 On February 12, 2015 the Brennan Center for Justice at NYU School of Law recently released a report entitled What Caused the Crime Decline? The report centers on two central questions: Why has crime fallen? And to what degree is incarceration, or other criminal justice policy, responsible? The findings reveal that decreasing rates of crime over the past two decades in America was not due to harsher criminal punishment policies or increased incarceration. In fact, for the past 30 years, greater levels of incarceration have been virtually ineffective as a crime control tactic. The report finds that social, economic, and environmental factors, such as growth in income and an aging population, had greater impact on reducing crime. It also found that a policing approach, one that assists police in gathering data used to identify crime patterns and target resources (called CompStat), was influential in the crime decline.
"This report aims to spur discussion of what constitutes effective policies to deter crime. It aims to use science, law, and logic to break the myth that has fueled mass incarceration and resulted in harm to our communities, our economy, and our country. More incarceration does not lead to less crime. The United States can simultaneously reduce crime and reduce mass incarceration." – What Caused the Crime Decline?
For more details, read the full report here and an article about the report and findings in The Atlantic here.