Mission Statement
Why We Punish is a public education campaign designed to generate informed conversations about punishment in the United States and provide a platform for systems-impacted communities, artists, scholars, and organizations to reimagine justice together.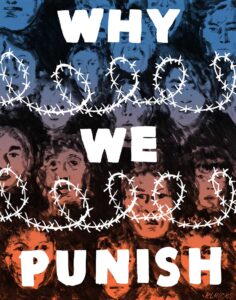 Background 
In April of 2022, the Harvard Radcliffe Institute, Prison Studies Project, and The Center for Cartoon Studies gathered cartoonists, educators, formerly incarcerated people, public policy experts, journalists, and public defenders to discuss the complexities of carceral punishment in the United States. Together, we brainstormed ways to educate a broad audience about the historical causes and current consequences of mass incarceration. We walked away with a vision to produce a multi-dimensional public education campaign that interrogates our deepest convictions about crime and punishment and empowers people to imagine justice differently. 
Project Overview 
We will begin this two-year campaign by creating a comic book that illustrates various dimensions of punishment in our culture. This comic book will serve as a building block for other educational materials that will be produced for deeper civic learning. Beyond education and consciousness-raising, the comic and educational materials will catalyze community conversations, further research, and direct social action. Building on a successful model that produced public education campaigns around democracy and governance, mental health, and healthcare literacy, our broader project will connect readers with social organizations and institutions that are currently supporting incarcerated people, returning citizens, and their families. 
Our methodology is guided by the following principles: 
Collaboration

: Projects incorporate the perspectives and expertise of the stakeholders who stand to benefit from the project. 

Inclusion

: Collaborators come from a diversity of backgrounds. 

Multidisciplinarity

: When exploring a topic, experts from many fields of study contribute. 

Accessibility

: Resources created should be accessible to a broad audience free or at a minimal cost. 

Broad Scope

: Projects undertaken address "big picture" topics and include partnerships with organizations and institutions that have a history of effectively educating around those issues. 
Project Goals 
The project goals can be defined under three separate yet interacting phases:
Framing The Issue 

Facilitating Public Discourse 

Public Education Campaign
Phase I: Framing The Issue 
We will continue to work with members of the exploratory committee that convened last April while expanding our working relationships with a diverse set of collaborators—including formerly incarcerated people, cartoonists and scholars—whose expertise, experience, and creativity will guide the production and distribution of a 32-page comic on mass incarceration. This graphic guide will introduce the topic of mass incarceration to a general audience by discussing its scope, history, and impact as well as alternatives to harsh penal practices. After the comic is published, we will distribute it throughout our networks including prisons, jails, comic book shops, public schools, and other places. 
Phase II: Facilitating Public Discourse 
We view the title of this project, Why We Punish, as an ongoing question, and an opportunity to encourage people to explore it and other related ones. The comic is a starting point that helps frame the discussion. By leveraging our networks of students, scholars, and cartoonists at Harvard University, the Prison Studies Project, and the Center for Cartoon Studies, teams of facilitators will be a catalyst for conversations and workshops throughout the country. Students and young artists will be trained to conduct workshops and use graphic facilitation techniques to help engage a broader community in public discourse and provide the tools and platforms for others to be seen and heard. 
No matter the audience or topic, comics have proven to be an incredibly effective tool for generating spirited discussions and learning opportunities. A cartoon is adept at:
Presenting complex data with greater clarity 

Making information more engaging and memorable 

Juxtaposing images to discover new relationships and connections to aid research and development 
In short, using art and comics as a centerpiece for these workshops invites engagement and creative possibilities. We will continually refine our approach as we go, noting what's effective in the various settings we visit. What we discover will be shared with educators and reformers and serve as the basis for a guidebook of best practices to equip others to further this work. 
Phase III: Public Education Campaign 
The final phase of the project seeks to transform the material content, discussion insights, and workshop notes from the previous two phases into a large-scale public education campaign. At this stage, we will: 
Produce a larger trade publisher book,

Why We Punish

, that documents the project, what we learned, and the voices and images of who we talked and worked with. 

Commission other writers and artists to develop new material that contextualizes and broadens what we learned and documented during the public discourse phase. 

Create lesson plans and study guides for educators 

Establish a centralized online platform for distributing resources
Project Timeline 
Planning for the Why We Punish project began in fall 2021. An exploratory committee was created and convened over two days in April 2023 to help shape the content and scope of the project. We hope to finish our work on this project in 2026. 
Project Needs 
Between private funders and foundations, the financial objectives of Phase I are close to being realized, and work has begun. We are now shifting our funding needs to the financial objectives of Phase II and III. 
Project Leaders 
Kaia Stern is co-founder and director of the Prison Studies Project and the first practitioner in residence at the Radcliffe Institute. From Sing Sing prison to The White House, Stern's work has been grounded in reimagining justice. She has taught extensively on topics such as liberation theology, ethics, punishment, race, eye contact and transformative justice. Author of Voices from American Prisons: Faith, Education, and Healing (Routledge, 2014), she is ordained as an interfaith minister, co-leads the Transformative Justice Initiative at HGSE, and has been learning/teaching in and about U.S. prisons for 25 years. 
Rebecca Thompson is an incoming Presidential Scholar in the Master of Divinity program at Harvard Divinity School where she will explore how art, education and spiritual practice inform one another. She is currently working on a comic and public education campaign about mass incarceration as the 2022-23 Applied Cartooning Fellow at the Center for Cartoon Studies. Rebecca is also a researcher for ANO Institute for Arts and Knowledge, a cultural institution based in Accra, Ghana, where she acts as a liaison between the ANO Institute and other international museums who have collections of Ghanaian objects in their possession. Her work focuses on building connections, cultivating and maintaining partnerships, and supporting the construction of a digital archive that provides information about Ghanaian cultural items in their original context.
James Sturm is the co-founder and Director of the Center for Cartoon Studies. His award-winning comics and graphic novels address issues of faith, race, and American identity, and his graphic novel Off Season (Drawn and Quarterly, 2019) explores the intersection of the personal and political against the backdrop of the 2016 presidential election. Sturm is a contributor to the Chronicle of Higher Education, the New York Times, and The New Yorker. He was a 2020-21 Radcliffe Fellow and a two time Macdowell Colony Fellow. 
About The Center for Cartoon Studies 
The Center for Cartoon Studies (CCS) is America's premier graduate cartooning school. Its mission is to explore the past, present and potential of cartooning. The school has helped revitalize an old Vermont railroad town into a thriving creative community of international stature. Through its Applied Cartooning Lab, CCS has partnered with key stakeholders in government, public policy, and healthcare to lead national public information campaigns about democracy, the US healthcare system, literacy, and mental health.