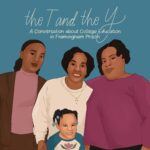 This podcast was submitted as a final project by three women who were a part of the Boston University Prison Education Program and incarcerated at Framingham Prison. Ms. Angie, Yammie, and Chiteara were all students in the Education & Justice Speaker Series, a course that Kaia Stern and Rebecca Thompson co-taught at Framingham Prison in Fall 2021 as part of the Law, Education, and Justice work at the Harvard Radcliffe Institute. For their final project, these women wanted to discuss their experiences with educational programming inside Framingham and they chose a podcast as their medium of communication. However, due to technological restrictions, the women were not actually able to record the podcast inside Framingham. They were only able to give us a live performance of the podcast in class, but they wanted their conversation to be shared with the public. So, with permission from the Massachusetts Department of Correction, we recruited women on the outside to take on the roles of Angie, Yammie, and Chiteara and bring their words to life. These three women have a very special connection to one of the women, Ms. Angie. One of them is Ms. Angie's daughter, Shanita, one of them is her cousin, and one of them is her sister, their names are Tanya and Natalie.
Podcast artwork by Uzo Ngwu.
Please note that the PSP website is currently under construction.
Podcast: Play in new window | Download